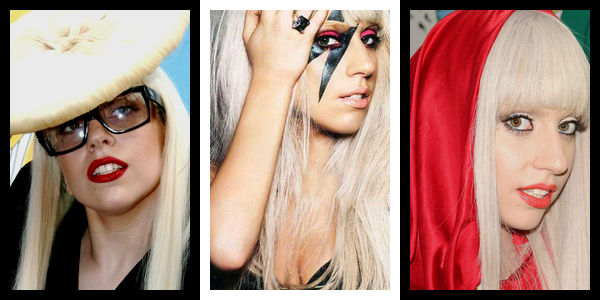 Lady Gaga sure loves the media attention.

Several years ago, the phenomenon that is Gaga barely registered on anybody's radar. She was an unknown entity in the music industry, performing at small public arenas with little recognition. It took nearly three years of struggle before her first album The Fame was released. True to the title, this marked the beginning of Lady Gaga's stardom. The singer, still in her fresh twenties, quickly rose as a prominent leader in pop and dance music. She also became an iconic figure in fashion and accessories, for better or for worse. Unlike most one-hit wonders, Gaga followed up with an equally strong sophomore album called The Fame Monster, thus solidifying her status as a widely successful artist in the 21st Century.

Lady Gaga not only received attention in radio airplays, but she also attracted both good and bad publicity across the different media platforms. In particular, online blogs love documenting her every move. It helps that she has a magnetic presence, especially in the wardrobe department. Her wacky costumes have been the central topic of many pop culture discussions, and the creative inspirations for Halloween parties. In fact, Gaga is so defined by her unique fashion sense that her name became synonymous with crazy clothing and a crazier persona. This type of attention is either a celebrity's best accomplishment or their worst nightmare – her identity as an artist is dictated by her outward appearance.
Analysis
Like her idol Madonna, Lady Gaga is an undeniable presence to the public eye. Both outspoken women know how to make a bold statement with their fashion choices. Madonna had her conical bra in the 1980s, while Gaga has her skin-tight cat suits and gravity-defying headwear. In addition, they both have incredible musical accomplishments. Madonna's amazing track record speaks for itself, whereas Lady Gaga is no slouch either with multiple hits over the past few years. Some popular radio songs include Poker Face, Just Dance, Paparazzi, Bad Romance, and Alejandro.

Her rise to fame comes with much controversy. Naturally, Lady Gaga drew criticisms for her peculiar appearance. She is almost always dressed in provocative attire, leaving either too little or too much to the imagination. These clothing choices may be justifiable during her theatrical stage performances, but she almost always wears an outlandish outfit regardless of the event. In society, we are so accustomed to the comfort of traditions and normalcy. We are expected to speak, dress, and behave in a conventional manner. Anything that seems too flamboyant is frowned upon. However, Lady Gaga broke out of the societal confinements and made every attempt to stand out. With her memorable fashion sense, she is a crusader for free self-expression.

The daring performer also comes under scrutiny for engaging in other provocative activities. Her Alejandro music video combines fetish imagery with seductive nuns, which of course does not sit well with the religious right. There is similar debauchery in her Telephone video, as she and Beyoncé perform a series of mass murders. Unlike many artists, Lady Gaga is clearly not a fan of playing it safe. Her music is meant to provoke, frighten, intimidate, and stimulate intense discussions.
To the Gaga fans, which she affectionately refers to as "her little monsters", she is a modern pop icon that made an astounding impact in the music industry. Yet, for the general public at large, they may be put off by her over-the-top behaviour. While a controversial artist like Lady Gaga is bound to have some dissenters, this signifies the risk that her musical identity may be overshadowed by the shocking persona. Will the public remember Gaga for her music rather than her crazy wardrobe? Can her songs compensate for her peculiar behaviour? Is she taken seriously as an artist?
Say what you want about her music or her personality, there is no denying that Lady Gaga worked extremely hard to reach her current level of acclaim. Her dedication and passion are evident in every single song track on her albums. Gaga may receive a lot of media attention, but only because she spends so much time entertaining us in the spotlight. Between creating the latest album and performing in concerts around the world, she also makes a tremendous effort to connect with her fans. She has always been grateful for her success. As somebody so familiar with the media and publicity, Lady Gaga understands more than anyone that fame should never be taken for granted. Attention is only given to those whom work hard to deserve it.

Lady Gaga: Number 1 Songs
As of 2010, Lady Gaga has seven songs that peaked at #1 on the musical charts across the world:

• Alejandro
• Bad Romance
• Just Dance
• Lovegame
• Paparazzi
• Poker Face
• Telephone